About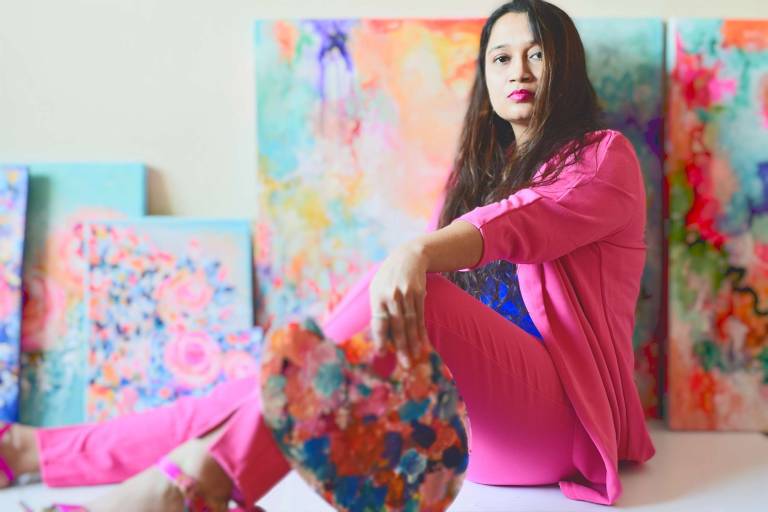 Urvashi Patel is a self-taught contemporary artist known for bold colours and vibrant works. She is based in West Midlands, United Kingdom.
After working in various Medias like Watercolour, Acrylics, Gouache and Digital, Urvashi is currently working predominantly in Oils exploring narrative in Portraiture and Figurative work.
Urvashi have exhibited previously as an Animal artist with Association of Animal Artists as well as Group show for her abstract collection in London.
Artist Statement
Art for me is a way to relax. It slows me down and allow me to connect with myself and nature. Art has helped me to understand myself.
Inspired by flowers in people's garden and completing my collection of florals, I am currently fascinated to explore the narratives in the human portraits and figurative that connects and tell story to the viewer. The more faces and forms I paint, I see stories. Each lines, wrinkles, spots, bags and dark circles under the eyes, bumps and dips on human face and body tells story that is unique to each of us.

I am not just painting face and body, I am painting stories that is unspoken, unheard by anyone but you. I like to keep my brushstrokes visible and raw. Most of my paintings are painted in Alla Prima style.
My core focus is painting Florals, Faces and Figures.
Exhibitions
Virtual Solo Show- Floral Kingdom - Feb 2021
Group Exhibition "Feelings"- London 2020
Association of Animal Artists Exhibition- Richmond 2018
Group Exhibition at Weston Park, Granary - Shropshire 2018
Association of Animal Artists' Annual Exhibition- Cheshire 2017